In our last blog we highlighted three of Greece's most popular destinations: Athens, Crete and Santorini.

We are back with more information on how to island hop in Greece like a pro! Since Greece has over 2000 islands there is a lot of choice when it comes to deciding which Greek islands to visit on vacation, and we want to break it down and make it manageable!
How to Island Hop in Greece:
Greece is famous for island hopping, and when it comes down to it, this is one of the best reasons to visit Greece. There are five main island groups in Greece, and these are where most visitors end up going: Cyclades, Dodecanese, Saronic Gulf, Sporades and Ionian.
The best way to island hop in Greece is pick one of the island groups for logistical reasons – this saves time and decreases travel distances!
The vast network of ferries zipping between islands every day in the summer season are the easiest and most affordable way to reach the islands.
Alternatively, many are reached by a short flight from Athens to get a jump-start on the "hopping".  If you want to visit the Ionian or Dodecanese islands then you definitely want to fly from Athens to one and then island hop from there.
If you really want to do the islands right, then boating is the way to go! We prefer catamarans (48 feet and larger ideal for 6-8 people) with ample space and four equal staterooms with private baths. If you are sailing purist, then a monohull might be more your style.  What if you don't sail?  No problem (we don't!) – just hire a Greek captain for the week and you are in great hands! Don't want to cook or do any work?  Then hire a hostess/chef as well!!  It's money well spent. The flexibility and ease of a sailing holiday is unparalleled; plus there is the adventure factor and the ever changing gorgeous scenery to admire.  The ability to drop anchor in any cove for a swim, snorkel or paddle-board is an incredible bonus, and being able to reach deserted stretches of coastline is a major plus. A sailing trip can also be surprising affordable; we work with a number of charter companies and during high season renting a boat is a great option. We last sailed the Cyclades in 2018 and can't wait to go back!
The "Big Two" islands are definitely Santorini and Myknonos, both are in the Cyclades group. They are internationally famous for different reasons, and most first-time visitors to Greece have a bucket list that includes one, or both. Scroll down for more info specifically on Santorini and Mykonos, but first let's delve a little more into the different chains, because our #1 pro tip is to go to islands that AREN'T necessarily Santorini and Mykonos. These two islands attract the largest number of visitors and in high season are jam-packed.  Add in cruise ships disgorging thousands of passengers a day… and Santorini can sometimes be wall-to-wall people.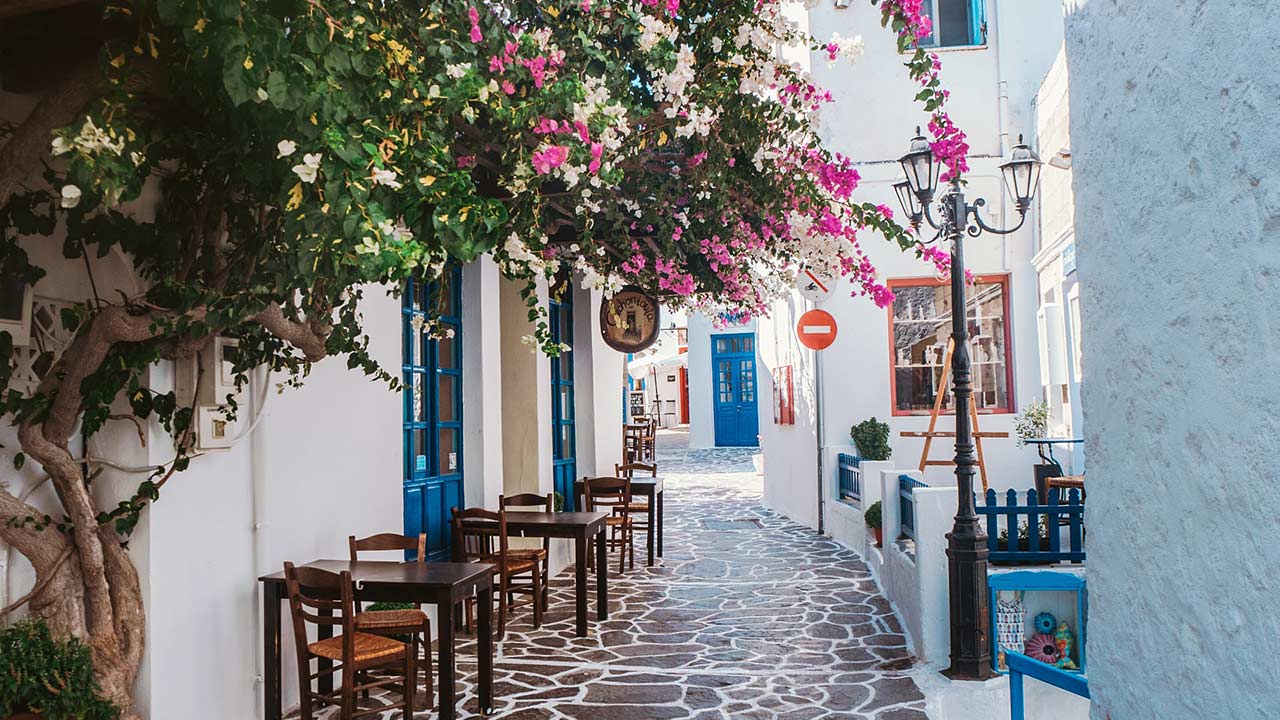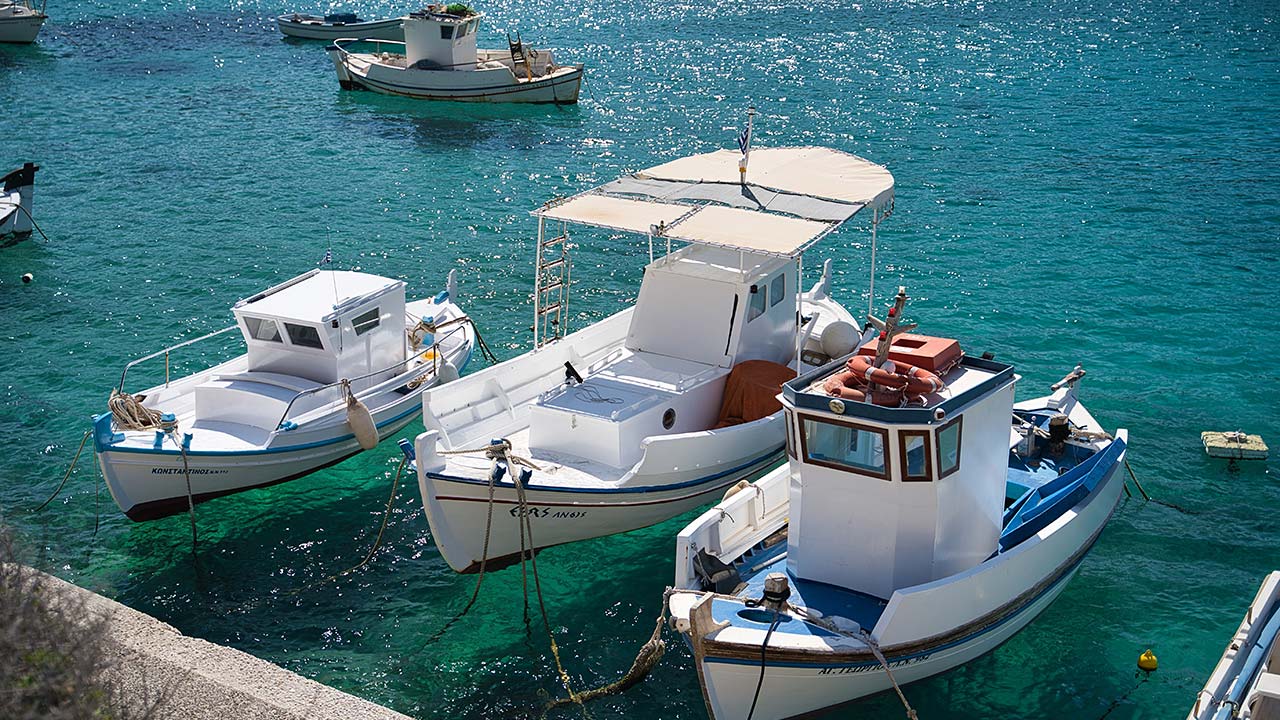 Cyclades Islands:
In addition to Santorini and Mykonos, there are 21 other islands to explore in the Cyclades, including Paros, Naxos and Milos. These islands all offer amazing beaches, less tourists than Mykonos and Santorini, quaint hill-top villages, and are great for families. 
Our favourite Cycladic Island is Milos – crescent shaped like Santorini, Milos boasts a large natural harbour and an elevated main town 'Plaka' that comes alive in the evening with restaurants and laneways featuring beautiful shops. But the real attraction on Milos is the lunar landscape of Sararkiniko beach and the sea caves where unique volcanic rock formations were carved over millennia. Milos is famous for one other reason: if you've been to the Louvre Museum in Paris, you likely saw the most famous ancient marble statue in the world called the "Venus de Milo" — this is the island where she was "found" in 1820!  We think Milos is a paradise on earth, and definitely worthy as the original location of Venus.
Paros is one of the top islands to visit! With something for everyone and all ages, Paros is a heady mix of beautiful beaches, fun towns with trendy bars and restaurants, and is known for active sports like surfing, kitesurfing, windsurfing and more. There's plenty of paths and trails for hiking. Kolimbithres beach in Naoussa Bay is the most famous beach in Paros and many consider it one of the most beautiful in Greece.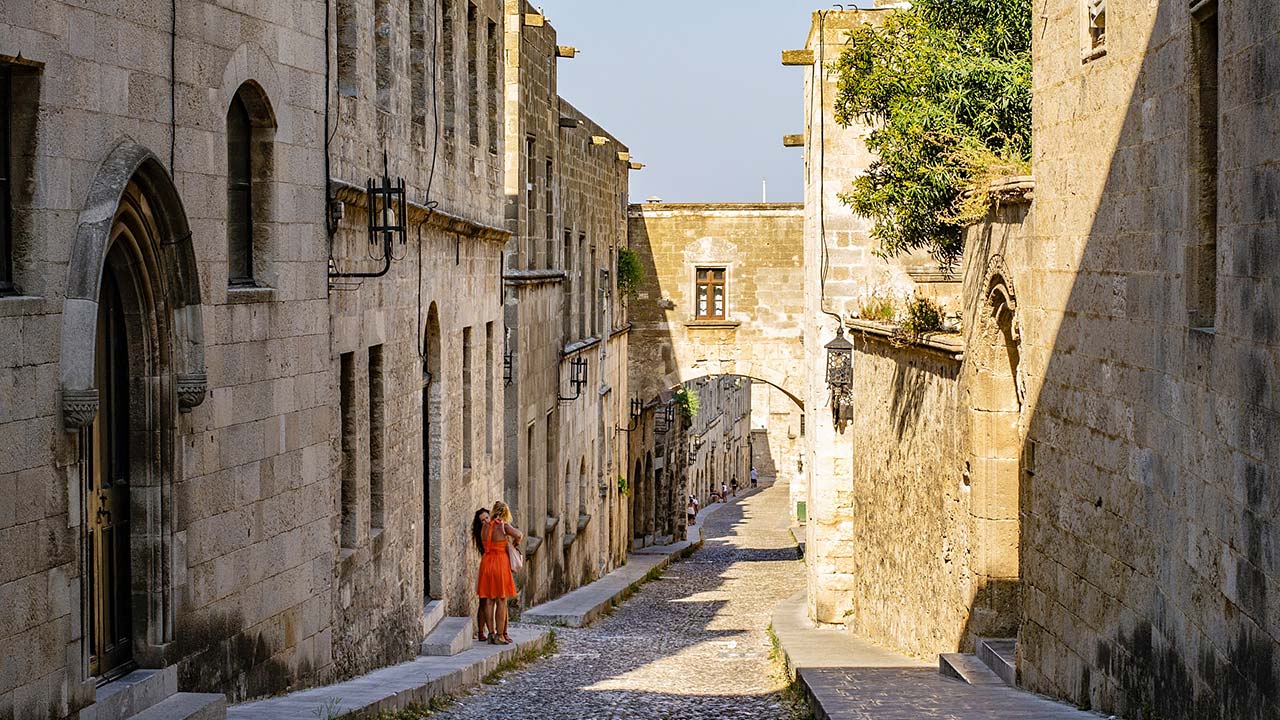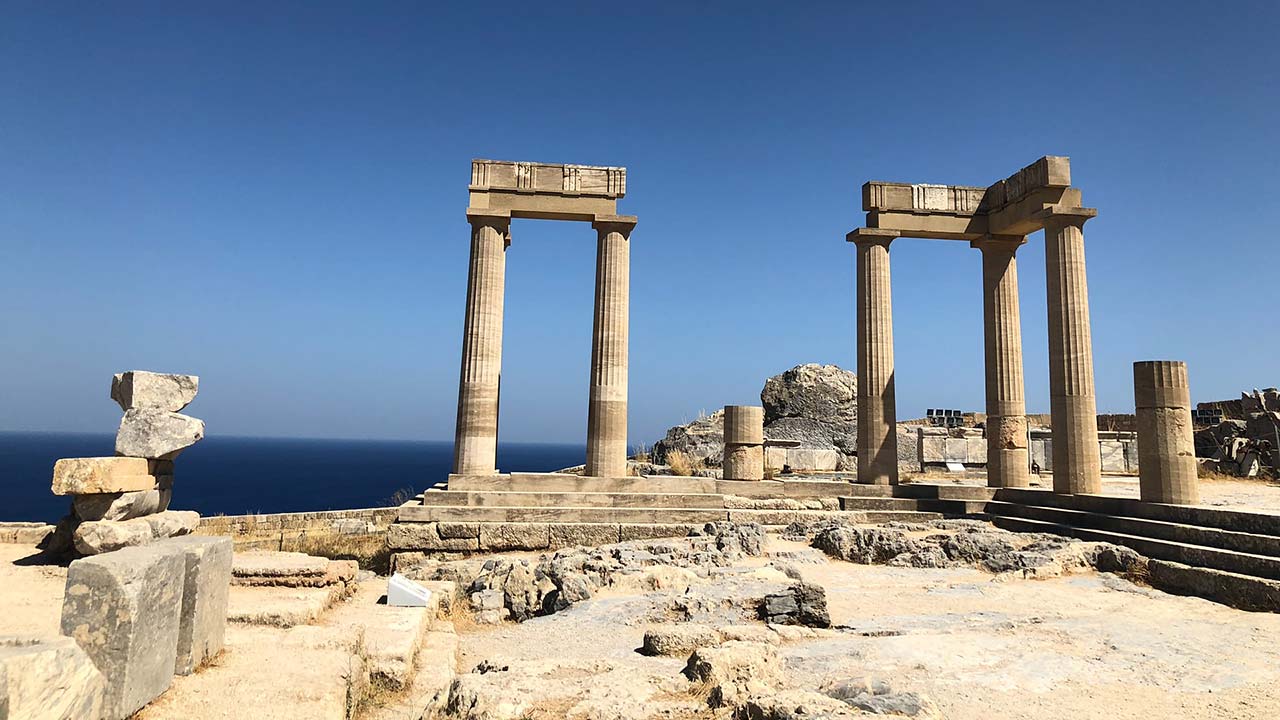 Dodecanese Islands:
This island grouping is the most easterly group, close to the Turkish Coast and best reached by a flight from Athens or another European gateway to Rhodes. The Dodecanese is less popular than the Cyclades, but the islands stand out for their medieval architecture and beautiful family-friendly beaches. 
Rhodes is known as the "Knight's Island" because it was fortified by the Crusaders and served as the base for the Knight's Hospitaller and the Order of St. John until the Ottomans ejected them in 1522. What the Knights left is a beautiful hilltop crenellated castle, the best preserved Crusader fortress in the Mediterranean.
The influence of the Ottomans is evident around Rhodes, especially in the heart of the Old Town, which is a UNESCO World Heritage Site.
Rhodes has a fascinating history, plethora of water sport activities, fine beaches and lots of resorts (including some all-inclusive) to choose from at all price points.
Other islands to visit include elegant Symi, nightlife intense Kos, and beautiful Karpathos.
Many of the Dodecanse islands are considered a little bit "off-the beaten path"and are perfect for a relaxing getaway.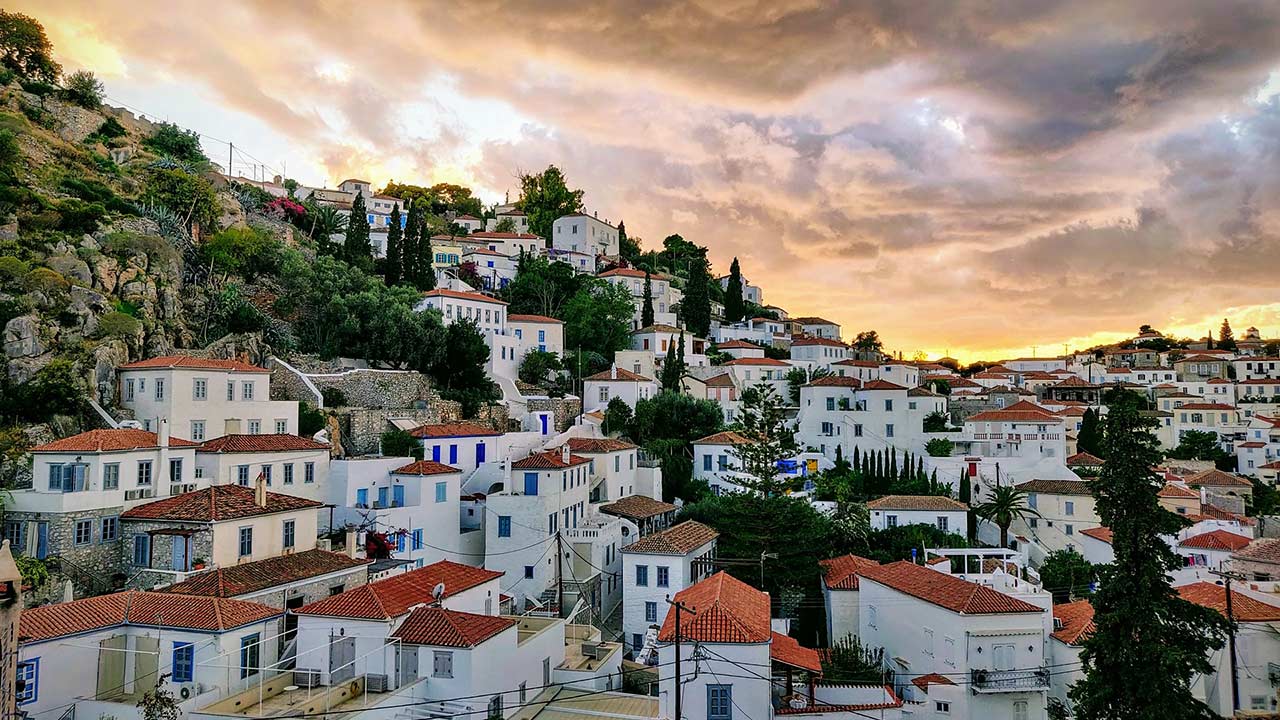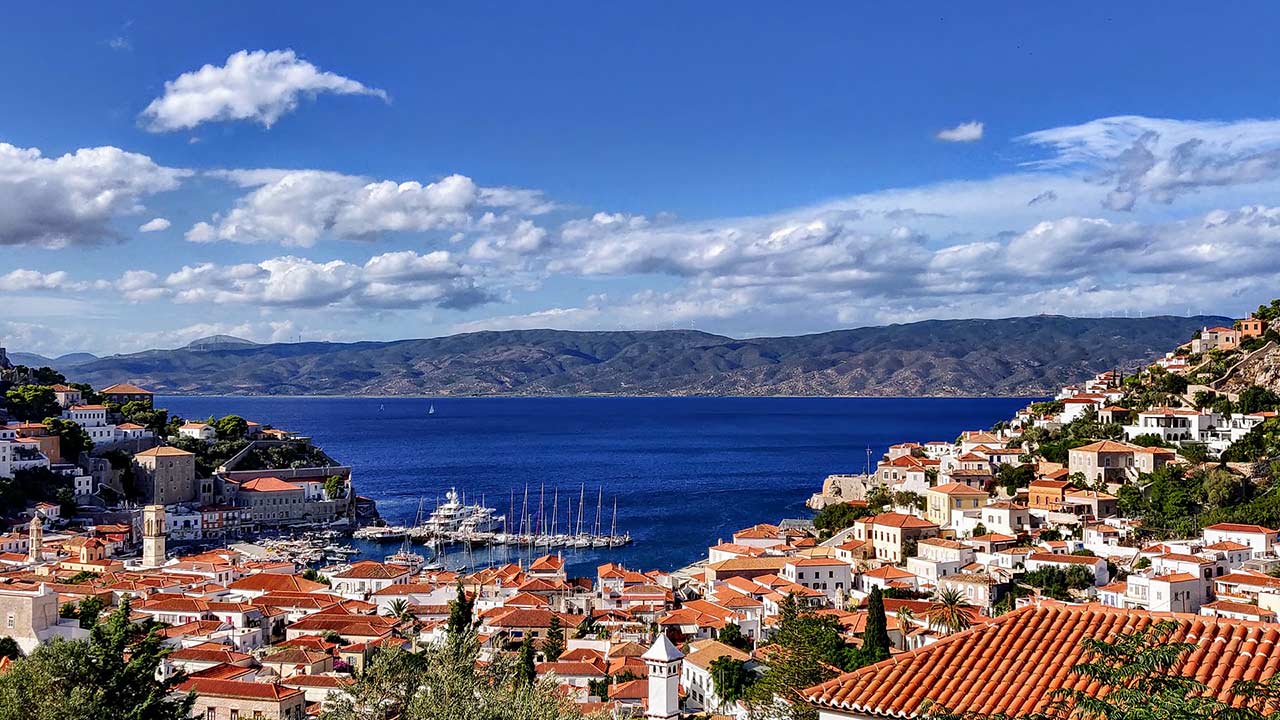 Saronic Gulf Islands:
If you only have a few days to explore the islands while you are in Greece than we suggest you head for Athen's port of Piraeus and take the short ferry ride to the quintessential islands in the Saronic Gulf.
Hydra: only 1.5 hours from Athens by ferry, Hydra is car free, classy and charming. The island boasts elegant stone mansions, upscale small hotels and is considered to be the most quaint island in Greece. It's also one of the most expensive. Over the years Hydra has been a retreat for many celebrities including Leonard Cohen, Maria Callas, Aristotle Onassis, and a filming location for multiple movies. Other than the beaches to enjoy, fantastic restaurants to dine in, and walking paths to explore, Hydra really is all about relaxing and soaking up the sun in one of Greece's most lovely destinations.
Spetses: also car-free, the picturesque main town stands out for its architecture and elegance. This island is popular with yachts, and the boutiques and restaurants reflect the upscale nature of visitors. Refined hotels combine traditional and modern elements in unique ways, while guesthouses and villas offer lots of accommodation options.
Aegina: has many archeological monuments and sites to explore, so if ancient temples are your thing, Aegina should be on your list. The centre of the island is Aegina town where neoclassical buildings and narrow alleys lead to a bustling seafront that is perfect for summer evening promenades! The most popular beaches have restaurants and watersport centres, while farther along the coast you can secluded coves and caves to explore!
Sporades Chain:
Probably the least well-known of the island chains for North Americans, the Sproades islands are located in the middle of the Aegean sea off the East coast of the Greek mainland. The small islands in the group include:
Skiathos: attracts thousands of young visitors each summer who are drawn to its massive nightlife and gorgeous beaches. Skiathos also has family-friendly beaches, stunning vistas from Bourtzi where there's a Venetian fortress to explore, and a 197 km long hiking trail network for those looking for an active getaway!
Skopelos: this island is renowned for lush vegetation, exotic beaches, lovely villages, and crystal clear water beaches. Skopelos is famous as the filming location for the Mama Mia movies! So if you have the ABBA soundtrack on repeat, and your heart is set on climbing the steps to the church in the wedding scenes then head to Skopelos!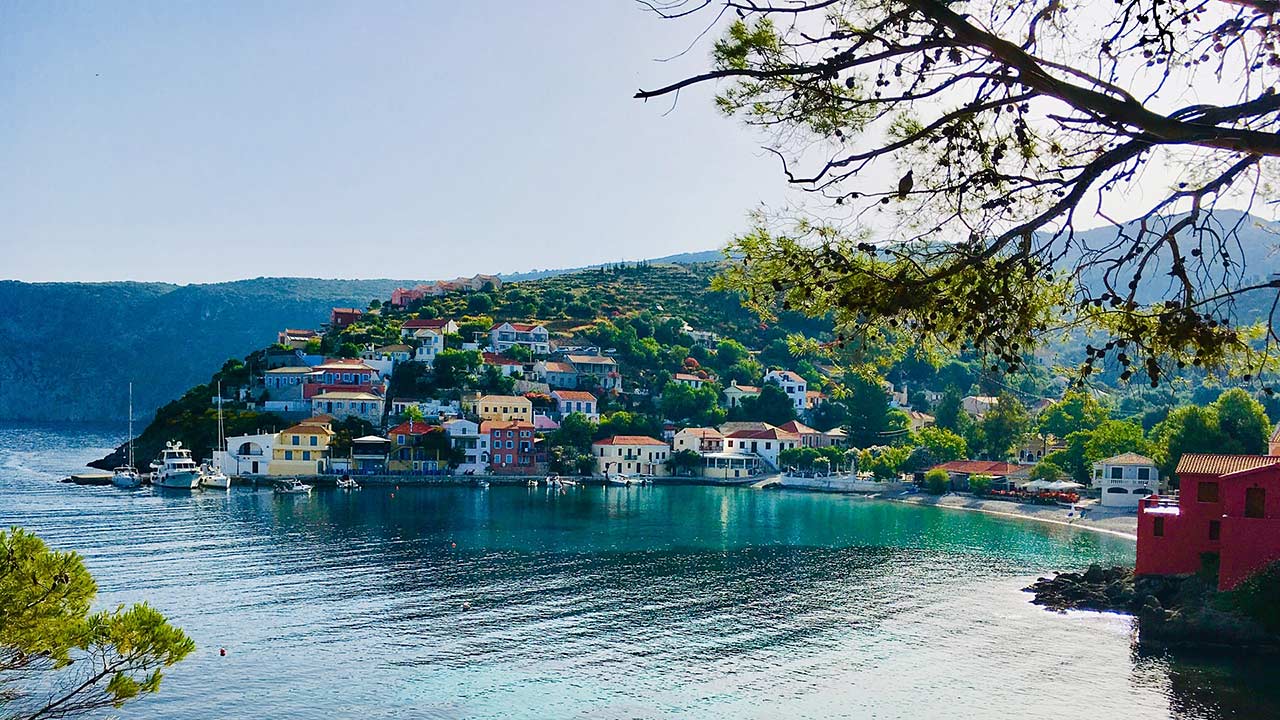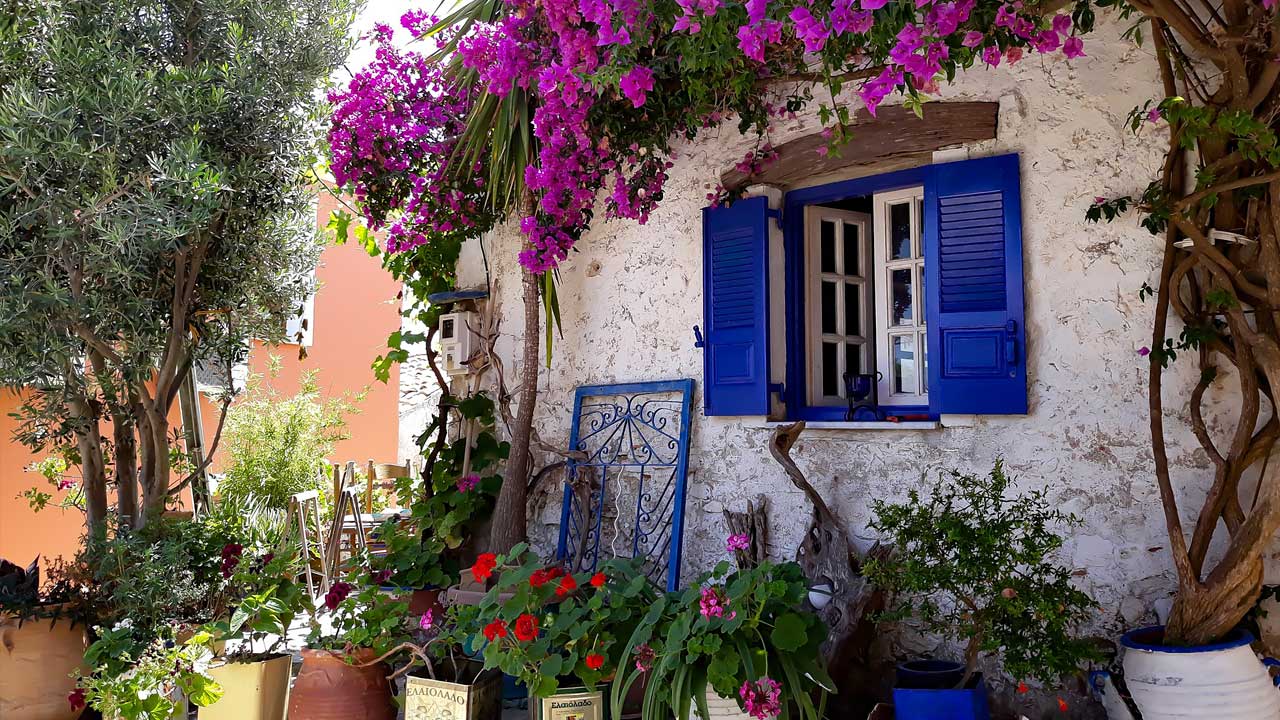 Ionian Islands:
Last, but certainly not least, are the Ionian Islands that lie off the West Coast of Greece facing Italy across the Ionian Sea. There are seven islands in this chain, the most famous being Corfu and Kefalonia.
Corfu: lies off the mainland right at the Greek/Albanian border and was culturally influenced by the Venetian, French and British Empires over centuries before becoming part of Greece in 1864. Today Corfu is most famous for its cosmopolitan old town, beautiful sandy beaches, lovely coves and two mountain ranges, making Corfu particularly stunning.
Fun fact: During the 19th and 20th centuries, Corfu was the favourite holiday spot of many European royals including Empress Elizabeth "Sissi" of Austria (the Hapsburg's 19th century version of Princess Di) and the Greek royal family. Sissi's palace is now a museum and the Greek royal family's villa (called Mon Repos and most famous as the birthplace of Prince Philip, Duke of Edinburgh) is also open to the public.
Where to stay: depending on who you ask the most famous hotel on Corfu is the Pink Palace. Since the 1960s this is one of Europe's most (in)famous party hotels. Actually make that hostel… a 2-star hostel specializing in toga parties. If you are over the age of 30 and/or have a budget of over 40 euros/day don't go to the Pink Palace. (PS: the famous booze cruise doesn't run anymore either). We do not recommend staying here. Instead, we prefer the vibe at the 5-star beachfront Ikos Dassia (family friendly) or the Domes Miramare Resort (adults only) – once the playground of the Onassis family!
If you like castles and fortresses add Corfu to your list. Up until the 17th century, Corfu was one of the most fortified places in all of Europe!
Kefalonia (also spelled Cephalonia): is the largest of the Ionian islands and also one of the most beautiful. Relatively unspoilt and slow-paced, Kefalonia has diverse beaches and lovely villages to explore. Melissani Lake is an impressive natural wonder that was only recently discovered in the 1950s after an earthquake. This renowned cave lake is filled with crystal clear water where boats and swimmer appear to magically float above the water. The cave is large; there are two "halls" and an island in the middle of it. Boats can be hired to tour the cave for about 7 euros (plus tip for the boatman).
Kefalonia is also the setting of author Louis de Berniers' literary phenomenon Captain Corelli's Mandolin. If you haven't read this novel, do so now. I read it on a beach in Greece years ago and it is still one of my top most memorable reads of all time. The movie starring Nicholas Cage (colossal miscast) and Penelope Cruz was not great, although it was filmed on the island and there are some beautiful scenes. But DEFINITELY read the book, you won't be disappointed. Especially if you plan to visit Kefalonia in the near future!
Where to stay in Kefalonia: there are many small boutique hotels and villa resorts depending on your budget. What Kefalonia doesn't have is larger all-inclusive resorts like Corfu, Crete or Rhodes.
What are The Most Popular Islands in Greece? Mykonos and Santorini!
Thanks for reading this far because I know this is what you really want to know about, right?! So here, in a nutshell, are the facts:
What Is So Special About Mykonos?
Mykonos is the most famous Greek Island with a reputation as the most cosmopolitan. Since the 1960s, Mykonos attracts visitors who are drawn to the laid-back/anything-goes vibe on the island, but it really exploded in popularity in the late 1990s-2010s. This is Greece's (slightly more chilled-out) version of Spain's Ibiza with packed nightclubs, bars, excellent restaurants, and epic (some nudist) beaches.
Mykonos is the most glamorous, high-style Greek island and hotels and villas cater to the upscale clientele who flock here every year en masse looking their "boho chic" best. Think of it this way: yachts are in the harbour, Russians are in the luxury villas (maybe not this year with incoming sanctions), while the cool kids are at the beach clubs partying!
Beaches: Mykonos beaches feature crystal clear water and powdery golden sand underfoot.
Beach hopping is the name of the game and there's no better way to enjoy the island than experiencing its numerous beaches.
Transportation challenges: While there is a bus system on the island, most people rent cars or scooters to get around; roads can be narrow with lots of twists and turns, and watch out after dark as lots of drivers returning home after sunset parties will have been in the sun drinking for hours.
Taxi's can be exorbitant. Legend says there are a total of 30 taxis on the island — so in high season, good luck! Uber does not operate on Mykonos, but there are a few local taxi apps like mykonostaxis.com that you can download on the app store. Many of the best hotels have free shuttle services that operate into the wee hours. There are also water taxis (recommissioned fishing boats) that go between 7 popular beaches along the south coast from late morning to early evening (10 am-5:45 pm) with an all day pass available. facebook.com/mykonosseatransfer
Beach Clubs: this is what Mykonos is all about! Each club has its own distinct brand but whatever you are looking for you will be able to find at one of the many beach clubs. facebook.com/mykonosseatransfer
Scorpios, Paradise Beach, Super Paradise Beach, Paranga, JackieO's, Cavo Paradise, etc… each beach club boasts a distinct style and are famous for different reasons. The list is long, and as the saying goes, "the party never stops", so put on your best beach party frock and head out for fun at different clubs, and figure out what suits you best!
Although Mykonos has beaches, hotels and restaurants that cater to every budget, those highly sought after top Instagrammable spots don't come cheap; a cabana at Scorpios starts at 100€ for the day.
PSA: If you aren't ok with nudity or are relatively conventional, check and make sure the club you are making a reservation at isn't nudist or alternative.
Mykonos is easily accessible with an International airport serving European and UAE metropolitan areas, so you can get their easily if you aren't interested in Athens.
Why is Santorini Greece so famous?
We already covered Santorini in our last post, but suffice to say, Santorini is easily the most famous island in the country and a natural wonder of the world. A crescent shaped archipelago, Santorini is said to be the site of the ancient lost city of Atlantis. Its unique shape was created by a massive volcanic eruption in 1600 BC, and today Santorini's volcano, while dormant, still exists as the small island New Kameni in the centre of the caldera.
Check out the blog post on Athens, Crete and Santorini for more in depth information on Santorini!
To summarize, here are GHT's tips on how to island hop in Greece:
Pick one group of islands, and spend time exploring them. ie: if the Cyclades are top of your list then chose Mykonos, Paros, Santorini, etc… but don't try to squeeze in Corfu or Kefalonia on the other side of the country.
Ferries in the summer from Pireaus are plentiful and affordable and can whisk visitors to the Cyclades or Saronic islands quickly. There are overnight ferries to Crete. If you want to explore the Ionian or Dodecanese then fly to one of them first and then use the ferries to hop from there!
Rent a sailboat with a captain and hostess. This is our number one preferred method of travelling for families and small groups of friends. If you haven't ever done a sailing trip then you definitely should plan to!
Contact GHT to help you plan your trip to Greece so you can maximize your enjoyment and minimize the travel and logistics!
Have you island hopped in Greece? If so, we would love to hear what your favourite island was and what was your best experience!
Bon Voyage,
Kathleen Hardy and the entire GHT Team!