Europe's favourite destination is having a renaissance at the moment, so we thought it would be the perfect time to answer a question we are often asked: Where's the best place to go in Greece?
The obvious answer to "where should I go in Greece?" is easy: Athens and the islands. But then it gets a little bit more… complicated. Greece has more than 227 inhabited islands spread across three separate parts of the Mediterranean Sea, and there are five clusters of distinct island groups. The country has 13,676 kilometres of coastline. That's A LOT of beaches, islands, and ocean to enjoy. But how should you pick where to go in Greece? Let us guide you as we've been custom designing tours and trips to Greece for over 35 years!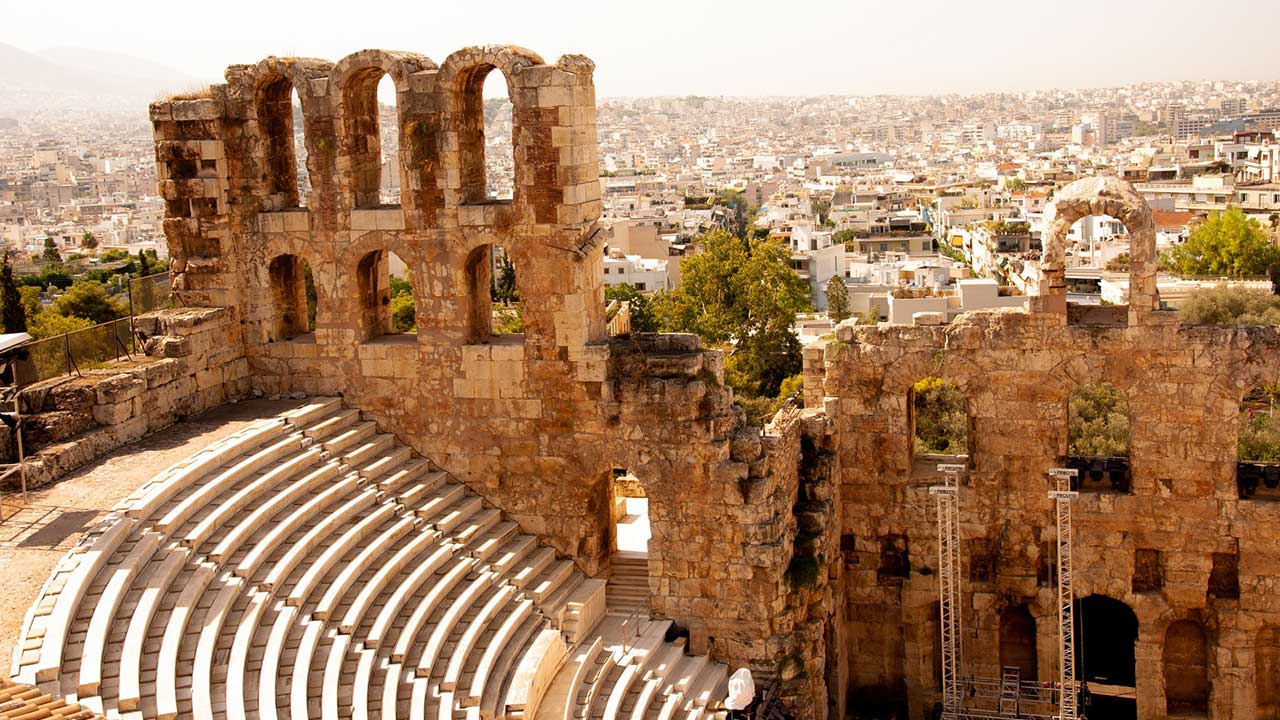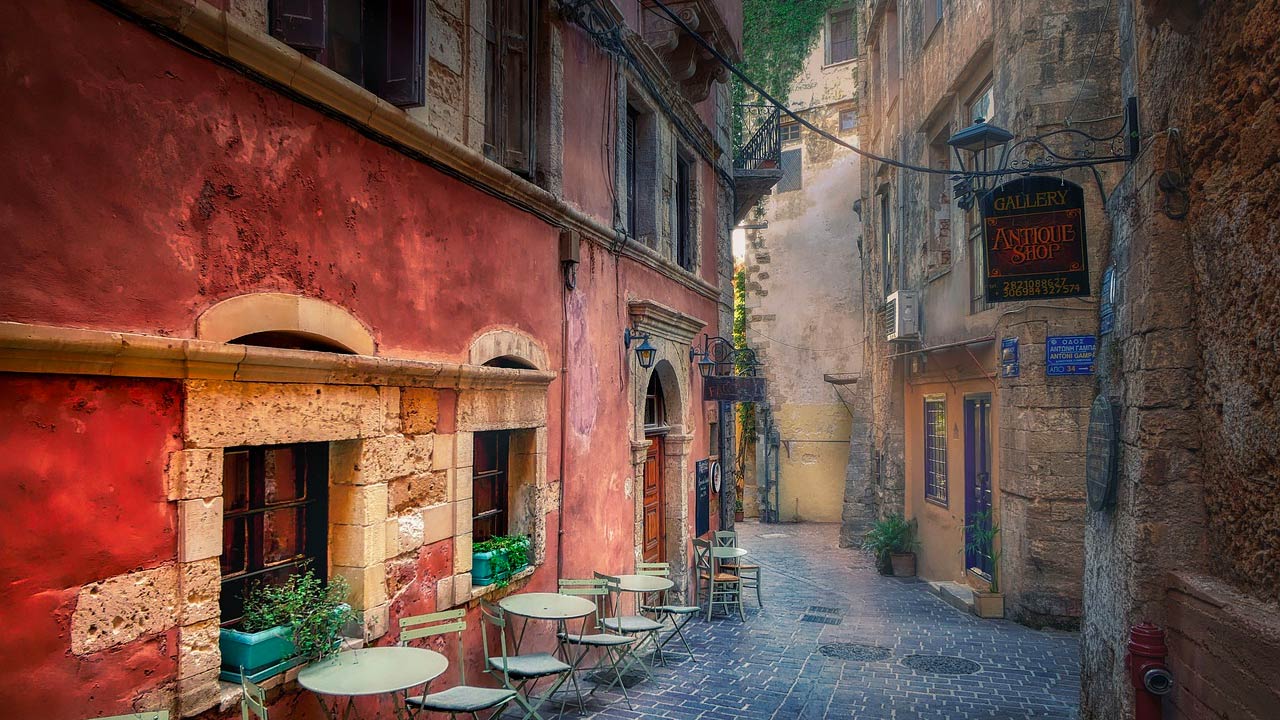 What is Greece Most Known For?
Greece is known for its potent mix of ancient temples, fantastic culture, lively cities and towns, great cuisine, jaw-dropping beaches and gorgeous shorelines.
Greece is literally the perfect Mediterranean destination!
Greece's allure dates back millennia and is truly a one-stop shop for a fabulous sun vacation mixed with great historic sites.
The most famous place in Greece is definitely the Acropolis.
Did we also mention snow capped mountains? Yep, Greece has those too (we'll get to that in a moment).
Greece saw travel rebound in summer 2021; visitor numbers were approximately 85% of 2019 numbers, which is a remarkable recovery considering the pandemic.
Forecasts for Summer 2022 are that demand will exceed supply as Europeans continue to travel enthusiastically within the EU, and North Americans trickle back across "the pond" looking for authentic experiences and a blockbuster post-Covid-19 trip.
This isn't surprising … because Greece is a one of those destinations that delivers incredible experiences and excellent value.
GHT's recommendation: start planning your 2022 Greece trip now. We can take the guess work out of navigating the mainland and islands with an ideal 7, 10 or 14 day itinerary based on our insider knowledge of Greece's best locations and your travel style. Contact us to discuss your ideal itinerary!
What To do in Athens (If You Have Two Days Or More):
The modern city of Athens was built around the ruins of the most famous site in all of antiquity and the Plaka neighbourhood is the most popular area in Athens to stay and dine due to its proximity to the Acropolis. Small squares and pedestrian-only winding streets are lined with shops and lively restaurants.
The New Acropolis Museum is my favourite place in all of Athens. I love museums (by-product of having a degree in European history), and have been to MANY over the years, but hand's down the New Acropolis Museum blew me away when I was there in 2019. It houses all the artifacts found on the Acropolis hill in an architecturally magnificent modern building designed to give visitors un-paralleled access to the treasures on display. This is the antithesis of a dark, crowded, musty, old museum and a highlight is walking through the ruins of the ancient city on which the foundation of the museum was built. This video really gives an excellent sense of the interior.
Athens just added another cultural landmark to its arsenal of sites to visit: the New National Gallery. For art lovers, this is a must-see, as the gallery was closed for over a decade while under complete renovation.
What's Athens like right now? Restaurants, bars, cafes and hotels are open and greeting visitors again!
Sherri H. a wonderful GHT traveler from Dallas, Texas, recently stayed in Athens at the Electra Palace Hotel. She wrote to us saying, "The Greeks really missed foreign visitors and are so sincerely happy to see us. Everyplace we go, the service is fantastic and everyone is so thankful, and so very friendly!" She loved the view of the Acropolis from her room, the ample buffet breakfasts, and the hotel's perfect location in the heart of the Plaka, while remarking on the sparkling cleanliness not only of the hotel, but of the city in general.
Our Top Recommendations for Visitors to Athens:
Stay within walking distance of the Acropolis (preferably in the Plaka or Monistiraki districts) GHT's favourite Plaka hotel for families and couples is the 5-star Electra Palace: classic architecture, roof-top pool, a restaurant with views of the Acropolis, and perfect Plaka location.
Make sure you have a pool if travelling during the hot summer months (a must if you are travelling with kids of any age!)
Hire a private guide for the Acropolis and the Acropolis Museum, we have an amazing one and his name is Aristotle so you just know he's an expert!
Visit the Poet Sandal Maker of Athens for an authentic pair of Greek Sandals: this artisan shop has been making shoes for the jet-set glitterati for decades!
Definitely dine out in the Plaka. There are so many great tavernas, some with live traditional music.
Our favourite restaurant in Athens is Dionysos Zonar's for upscale modern Greek dining with stunning views of the Acropolis. The location is world-class and the food excellent.
Just don't expect to break any plates. Definitely an outdated tradition, so abandon the idea entirely and just enjoy a civilized meal at a top-rated restaurant instead.
Largest hotel pool in Athens is at the Hilton Hotel, with a bonus poolside champagne and Aperol Spritz bar. A full service spa, fitness centre, executive lounge and skybar complete the amenities for this modern hotel. We stayed here with our children to take full advantage of this pool to cool off in after touring.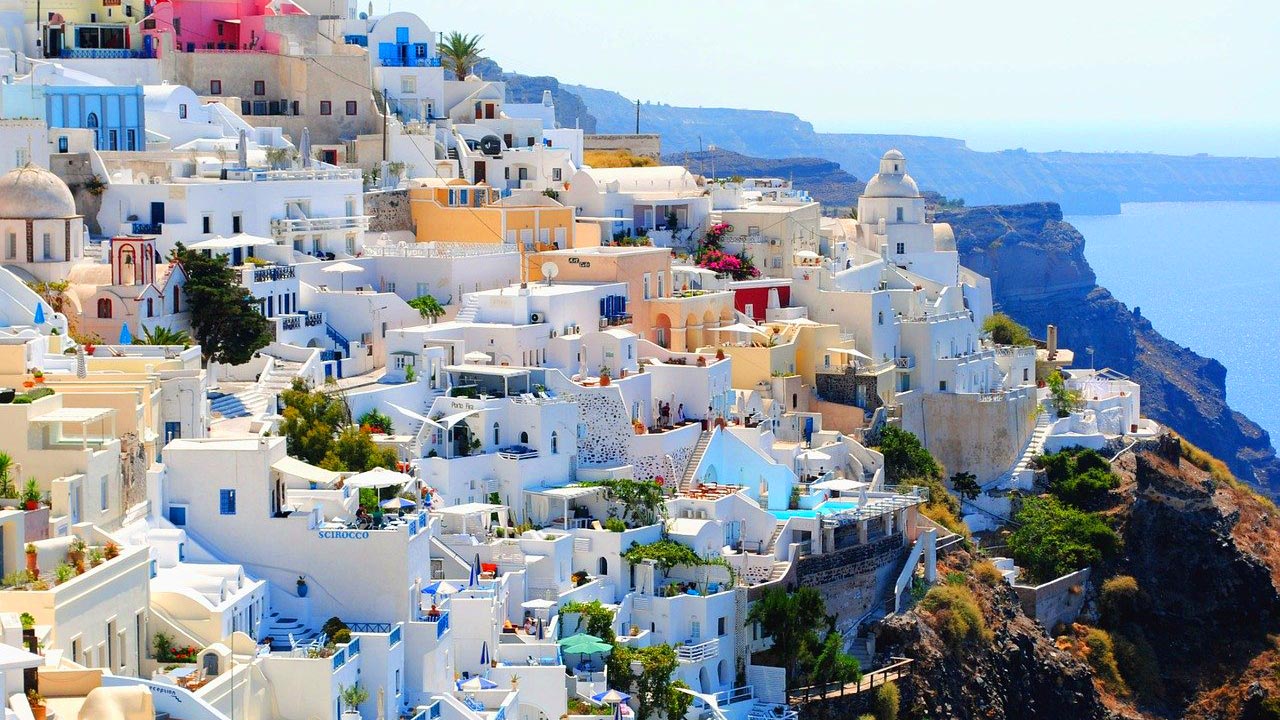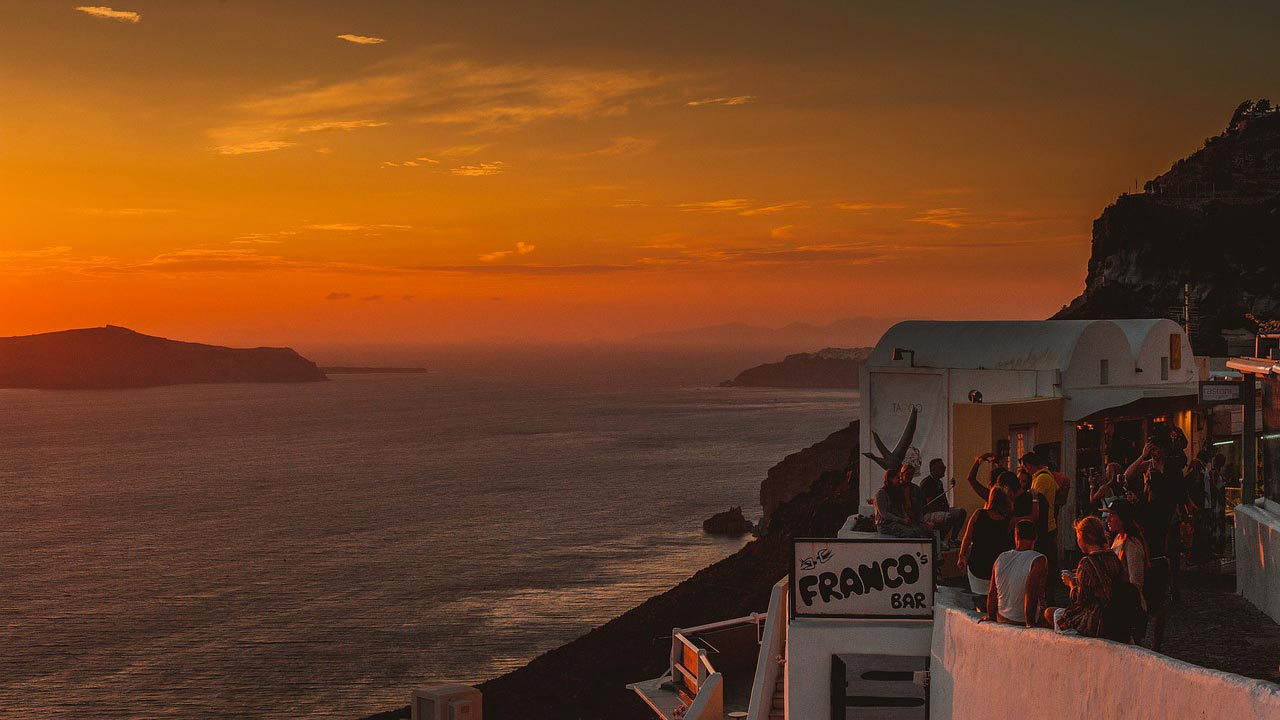 What's GHT's Favourite Island in Greece? Santorini!
We're often asked "What's the best island in Greece?", and without a doubt our top-pick is Santorini for first-time travellers to Greece. This is no surprise, because the island's legendary status as one of the most beautiful and romantic places in the world doesn't even begin to cover what makes it so special. Here are some fast facts about Santorini:
Santorini's official name is Thera (also spelled Fira), which can be confusing as the largest town on the island has the same name. Fira town is buzzing with activity at all hours of the day and night – restaurants, bars, and nightclubs make this the most happening town on the island.
Famous as the likely location of ancient Atlantis, Santorini's stunning geography was the result of the catastrophic Minoan volcanic eruption in 1600 BCE.
Due to the island's volcanic soil, Santorini boasts three different kinds of beaches: white, black and red. Most beaches have beach clubs where chairs and parasols can be rented for the day or hour, with onsite restaurant and facilities.
The highest point on the caldera's edge is the town of Imerovigli. A "footpath" linking Imerovigli to Fira along the caldera's edge is lined with hotels, restaurant terraces, and shops and is an easy 30 minute walk. Imerovigli also has the reputation of being more quiet than Fira (which can be a good thing at 3 am… depending on your age:)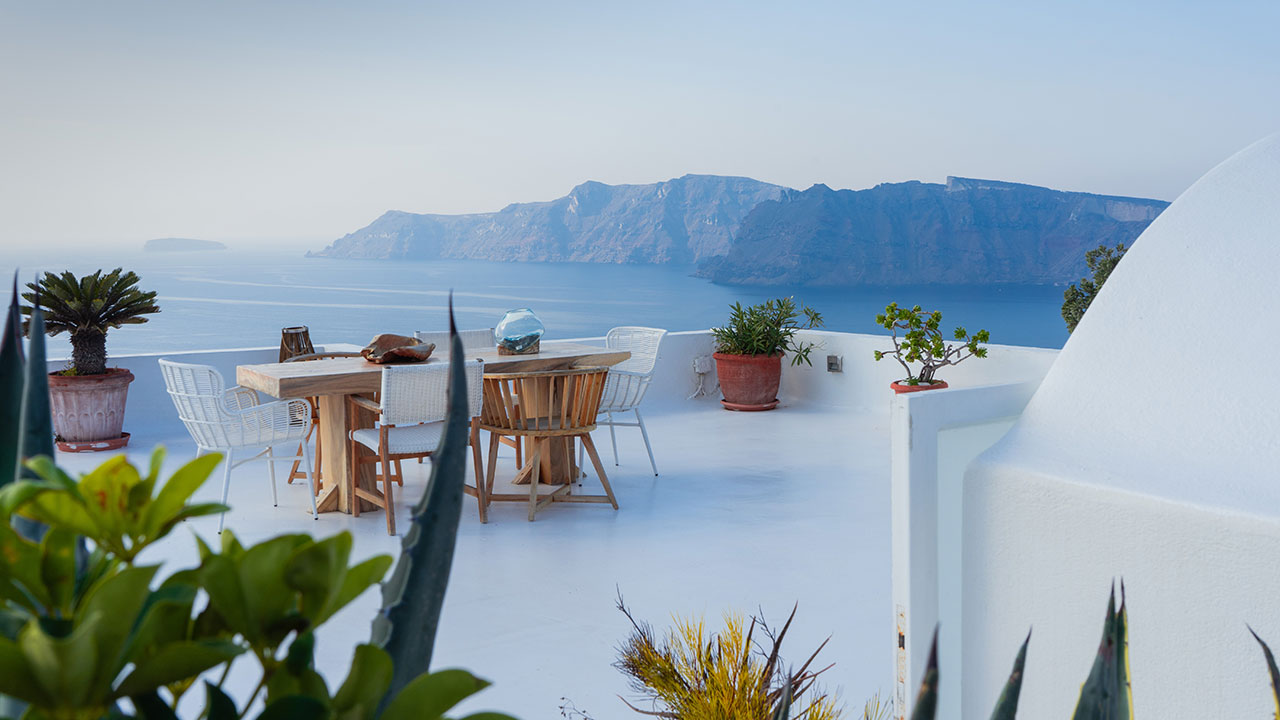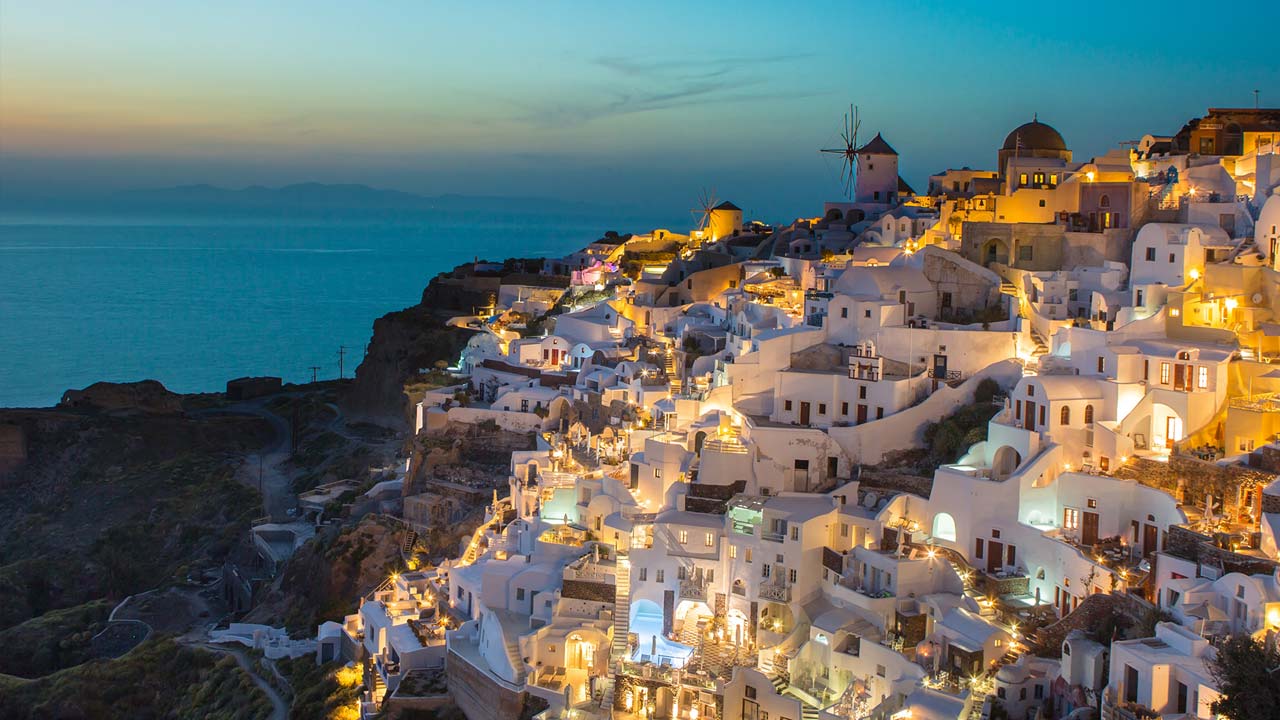 What To See and Do in Santorini:
GHT's favourite place to stay in Santorini is Andromeda Villas & Spa in Imerovigli. It's luxurious but still offers excellent value. Perched cliffside with spectacular views across the caldera, the hotel's style is the epitome of simple Cycladic architecture. The gorgeous pool and terrace are the perfect place to enjoy a cocktail, while the lounge chairs on the balconies are the ideal spot to watch the sunset. An elevator is a welcome feature and highly unusual for caldera-side hotels.
Visit Akrotiri, Greece's version of Pompeii, (but much earlier dating to the Bronze Age). When the volcano blew up the island in 1600 BCE, the Minoan city of Akrotiri was covered in a thick layer of ash, preserving remarkable mosaics and artwork. THIS is the spot that historians believe inspired Plato's story of Atlantis.
After visiting Akrotiri, eat at the Cave of Nikolaos! This is one of Santorini's most popular tavernas and is literally right on the water. A GHT favourite, the restaurant is conveniently close to Red Beach, so wear comfortable shoes as this beach is at the bottom of a cliff face, but so worth getting to!
Get on a boat! And I don't mean a cruise ship. Take a local boat tour (private or group depending on your budget) and explore the less touristy parts of the caldera chain including Nea Kameni hot springs and volcanic park
Visit a winery. Like most wine producing countries, Greece has very distinct DOC regions and Santorini's volcanic mineral rich soil in combination with the hot climate creates unique high-quality wine varietals. The vineyards on the island are some of the oldest in the world. One of our favourite wineries is Boutari, where the wines are excellent and the white domed tasting amphitheatre is architecturally magnificent.
Santorini's airport offers direct connections to many European and UAE cities, making it easy to get to on a short, direct flight if you are on the Continent!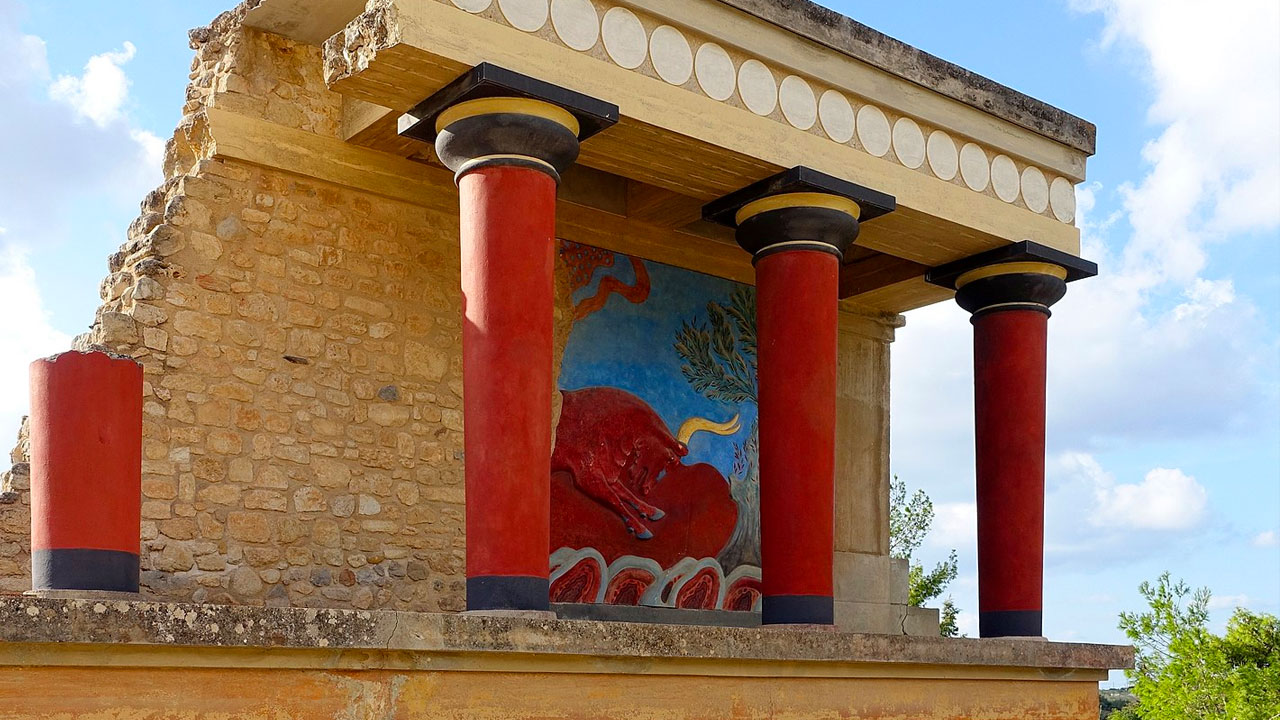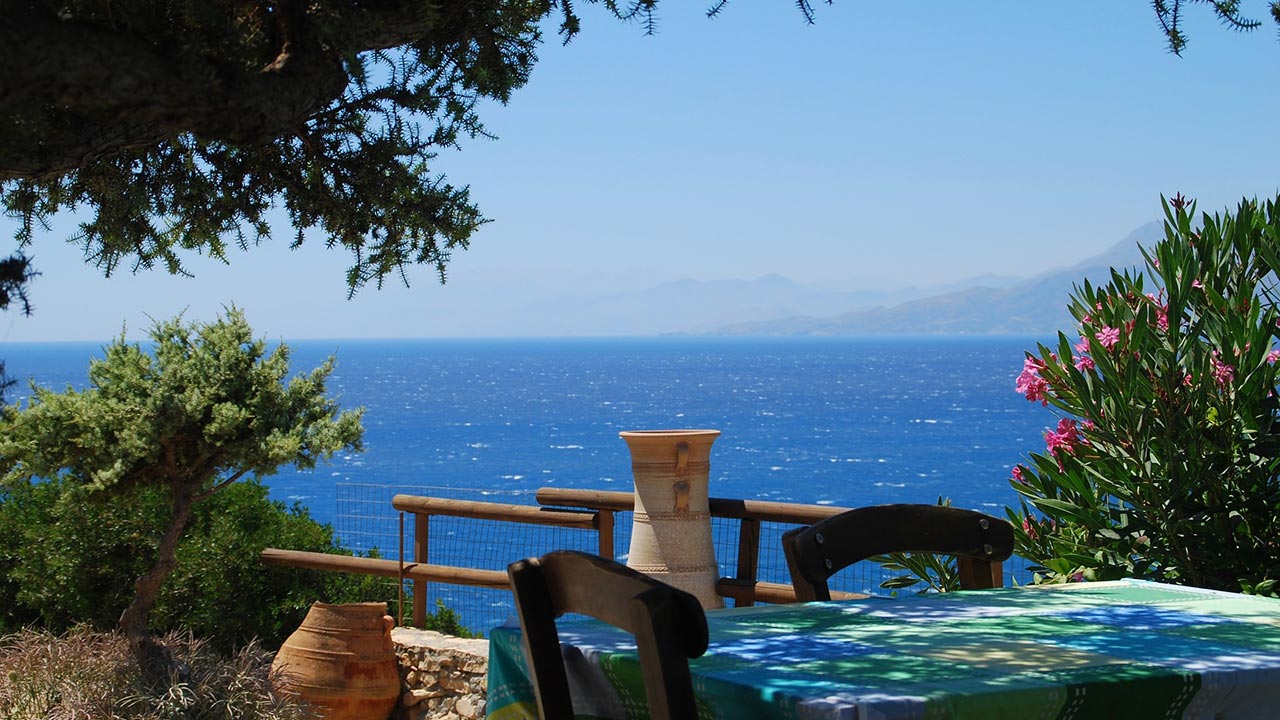 Why is Crete so Popular?
Crete is the largest and most southerly Greek Island and is known for having beautiful beaches, rocky coves, white washed villages, steep gorges, snow capped mountains and incredible ancient Minoan sites! In a nutshell it has everything you could want to see or do on a relaxing or active vacation.
The cuisine in Crete is world-famous for being hyper local, fresh, and mouthwatering delicious. Unique ingredients, herbs and techniques make the (traditionally) pre-dominantly plant based diet very healthy.
Who were the Minoans and why were they important? The Minoans were a highly developed Bronze Age civilization that dominated Crete and neighbouring islands from approximately 3000 to 1450 BCE. The Minoans were famous for the vast palace complexes they built, the most famous being Knossos, which is located in the capital city of Heraklion.
One of the most famous Greek myths is Theseus killing the Minotaur who dwelt at the heart of the labyrinth in the palace of King Minos. Archeologists believe that labyrinth is actually Knossos! The rich Minoan history on the island makes Crete a mecca for ancient civilization buffs.
Crete's topography makes it difficult to see the island on your own, plus it's longer than 300 km from one end to the other. Typically, visitors pick one side of the island and stick to it, because the road system can be slightly primitive in places and those mountain peaks and gorges can present challenging – or thrilling – driving conditions.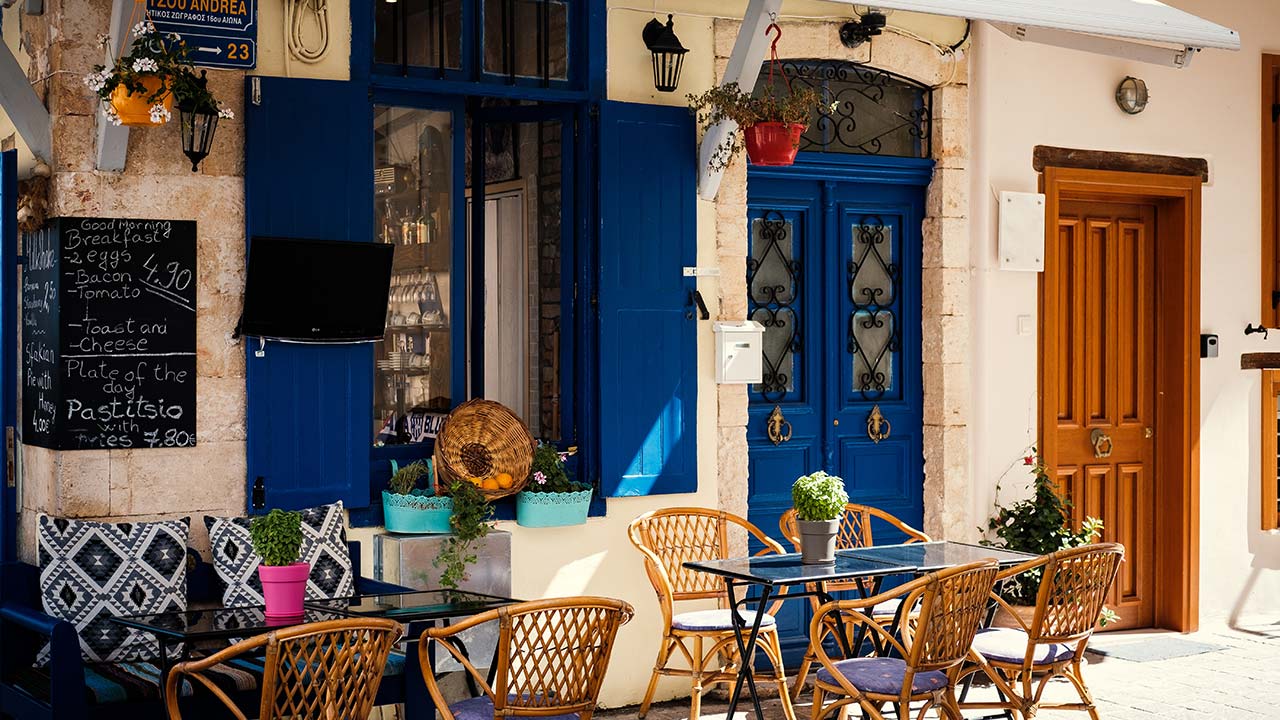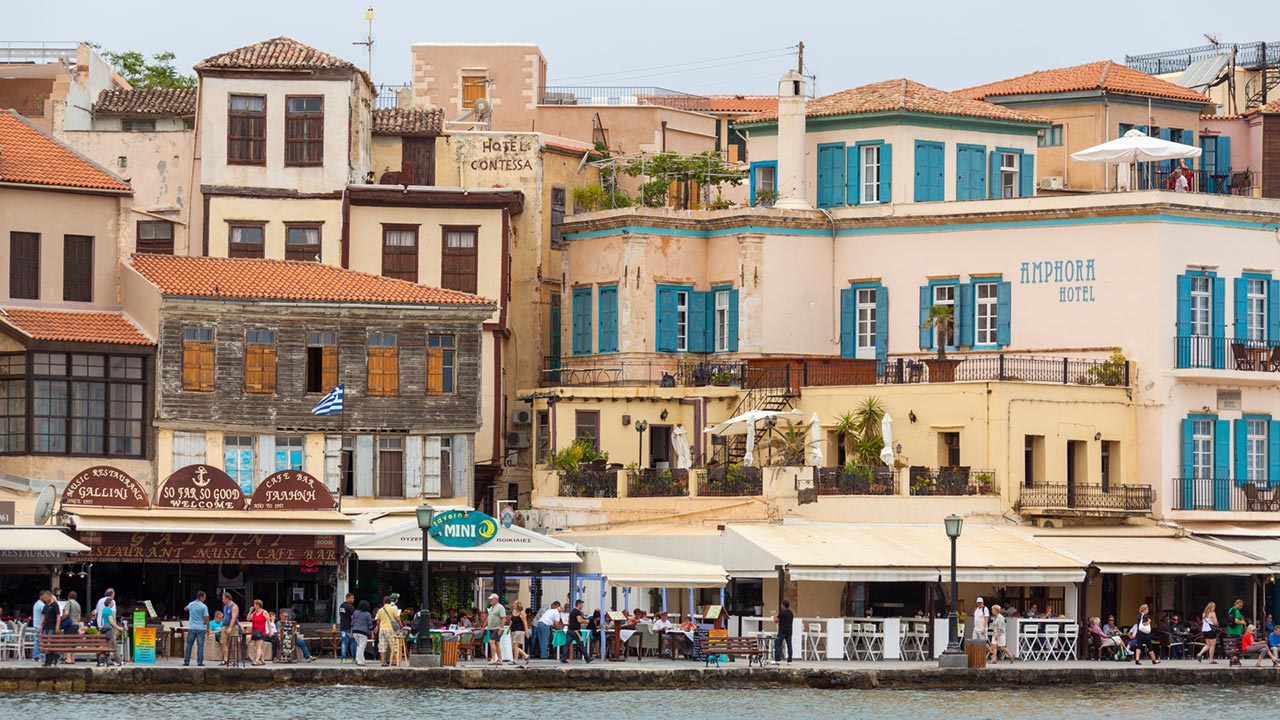 Where To Go in Crete:
Chania is the westernmost city on the island, with an international airport offering many connections to Athens and other European cities. It has a beautiful medieval town dating to the Venetian era, a scenic harbour with an Egyptian-era (1830s, not ancient) lighthouse, Jewish Quarter and ancient Cretan Agora. If you've been to Venice before, you will immediately notice the architecture and similarities to "La Serenissima", as Venetians built Chania in the 14th century.
While there are many small boutique hotels, villas and B&Bs in Chania, we recommend Porto Veneziano hotel right on the harbour. It's a great base to explore the town as it's 10 minutes by foot from the medieval centre, has modern updated rooms, and accessibility isn't an issue! While accommodations in the warren of medieval streets are quaint, what's not charming is dragging your luggage in the heat of the noon-day sun because there's no direct road access to the front door. Also, the old Quarter is generally where the nightclubs are located, so if you value peace and quiet while you sleep, likely best not to stay right in the thick of the action. It's details like this that GHT always considers!
In the Chania prefecture, the entire coastline is lined with large beach resorts of all categories catering primarily to UK and Northern European clientele. If you are familiar with Punta Cana, Dominican Republic or the Mexican Riviera, the resorts on the Cretan coastline are in many cases on the same scale, ranging from budget to super luxury.
The best beaches in Crete are definitely close to Chania and include Balos Beach with turquoise water that rivals the Caribbean. Elafonissi Beach is also famous, but slightly harder to get to as it's on the most westerly part of the island 82 km from Chania, so it's best reached on a tour or if you have your own car. Elafonissi turns up on Instagram all the time as the sand is pink coral and the location is a dramatic islet that's often voted the most beautiful beach in Greece. Head's up: during the summer months, it can be packed with tourists.
Samaria Gorge is located in the vicinity of Chania and is a top-notch hiking destination, with visitors coming from all over the world to do the 16 km hike through Europe's longest gorge. It became a National Park in the 1960s in order to protect rare flora and fauna, in particular the kri-kri, a mountain goat that only exists in this gorge!
Knossos: if you have an interest in antiquity and the Minoans, then the palace is a must-see! This ancient city lies just outside Heraklion, Crete's capital and requires a minimum of two hours to tour the site properly. We highly recommend a private guide to make sense of what you are seeing and really get the most out of the visit.
Elounda and Agios Nikolaos: the two main towns on the North Eastern part of the island have an abundance of restaurants and full-service beachfront resorts. Our new favourite 5-star hotel is the Cayo Exclusive Resort with its own private beach and stunning network of pools. The resort opened in 2020 and the location above Plaka gives guests direct sight lines to the island of Spinalonga.
Elounda is a resort town built around the ancient underwater site of Olous. So if you fancy snorkelling amongst ancient ruins, then Elounda's bay is for you! Walking paths link Elounda to Plaka where you can catch a boat to the island of Spinalonga for a unique tour of one of Crete's most famous sites.
Spinalonga island was fortified by… you guessed it, the Venetians! The massive ramparts you see today date from the 16th century when the island was one of the most impregnable sea fortresses in the Mediterranean. A guided tour of the island is a super half-day trip and is easily reached by a short boat ride across Elounda Bay.
Agios Nikolaos is a super popular seaside resort and port town located on the coast and Voulsmeni Lake. With a boardwalk spanning the bay and tavernas filling the squares, Agios Nikolaos attracts visitors all year because of the warm sunny climate. With water on three sides, beaches close by, great shopping and a rich history, Agios Nikolaos' laid-back vibe shouldn't be missed!
How to Travel to Greece:
Do you want to travel to Greece and don't know where to start? Then join the fully-escorted, custom small group tour Ancient Greece Alive Tour: September 9-22, 2022 and uncover the hidden treasures of Athens, Crete & Santorini with us!
Plan a trip! Are you thinking of a family vacation next year? Then tour like a pro and leave all the logistic details to us including navigating confusing travel regulations related to Covid-19. Let's connect and discuss a plan for your Greek vacation!
What are your favourite places in Greece? Where would you like to go most? Let us know!
We would love to hear from you. Leave a comment or reach out directly! And stay tuned, because our next blog post is on how to island hop in Greece like an expert.
Bon Voyage,
Kathleen Hardy and the entire GHT Team!